More than 50 years manufacturing high quality pre-consumer recycled yarns
Pre-consumer yarns have positioned themselves as one of the major solutions for moving towards greener production. As cotton recycled yarn manufacturers, pre-consumer yarns are characterized by the fact that they are discarded waste that is reintroduced into the manufacturing process to give it a second life.
Manufacturer with the lowest breakage rate on the market
Manufacturer with the lowest
breakage rate on the market

Manufacturers of pre-consumer recycled yarn
We develop high quality recycled yarns from pre-consumer textile waste. We carefully select and process this waste to ensure that the yarns are of excellent quality and strength, so that they can be used in various industrial sectors.

Manufacturers of post-consumer recycled yarn
Meet the business line specializing in the manufacture of post-consumer recycled yarn. A sustainable and attractive alternative for those looking for high quality post-consumer recycled yarns and materials with a reduced carbon footprint.

Vilarrasa more than 50 years in the sector as recycled yarn manufacturers
At Vilarrasa we strive for quality and excellence in the product, guaranteeing the profitability of the yarn discarded. With more than 50 years of experience in the sector manufacturing recycled yarn, we work in the search for a careful and efficient recycled yarn production process, keeping up to date with the latest market trends and technologies, allowing us to offer innovative and sustainable products to our customers.
Integrated vertical process
The high quality of our yarns comes from a fully integrated 360º vertical production process. We have our own efficient machinery for the separation of materials that allows the cleaning of impurities from the textile fabrics, spinning machines to unify the fibres, as well as the use of optimization systems to reduce the waste generated.
1. Collection
of textiles

Global Recycled Standard Certification, GRS cotton recycled yarn
Our yarns are GRS (Global Recycled Standard) quality certified with 100% recycled yarns, in addition to social and environmental protocols.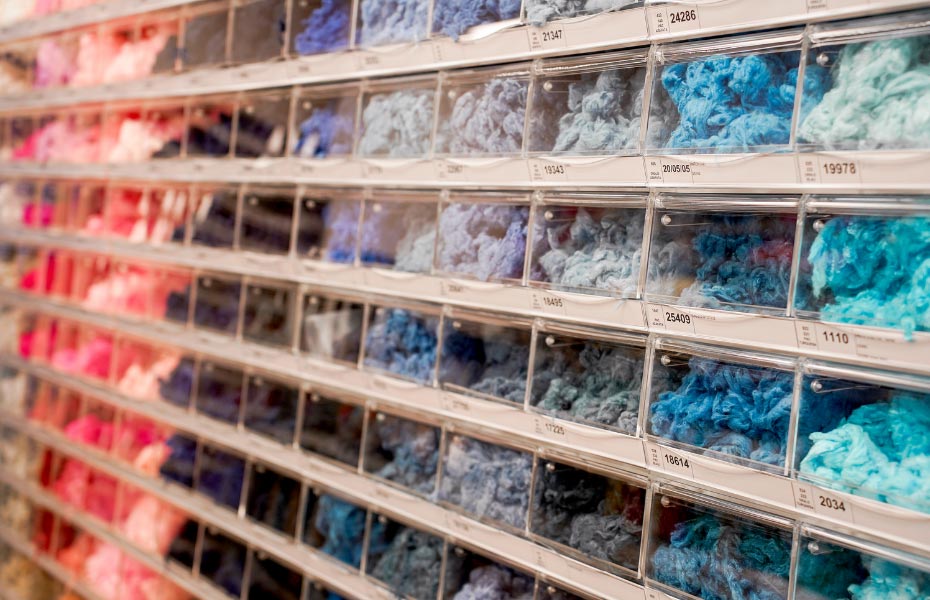 Colour laboratory | Vilarrasa Lab
Our colour chart includes a wide variety of colours in pre-consumer recycled yarns. However, we have a laboratory for the creation of new customized colours outside the colour chart. We create different shades of colour depending on the specific needs that are required in each case.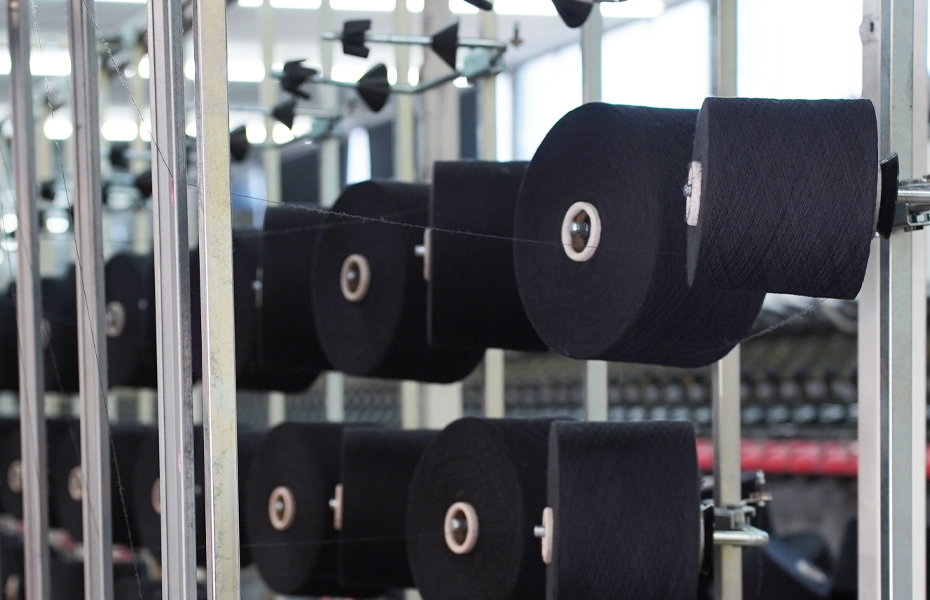 Recycled yarn twisting service
One of the services we offer at Vilarrasa is the twisting of recycled yarn. Twisting is the process that increases the strength and resistance of the yarn by twisting the fibres, providing greater stability to the filaments. For this reason, we use the most specialized machinery to carry out this spinning recycled yarn process with the utmost precision and quality.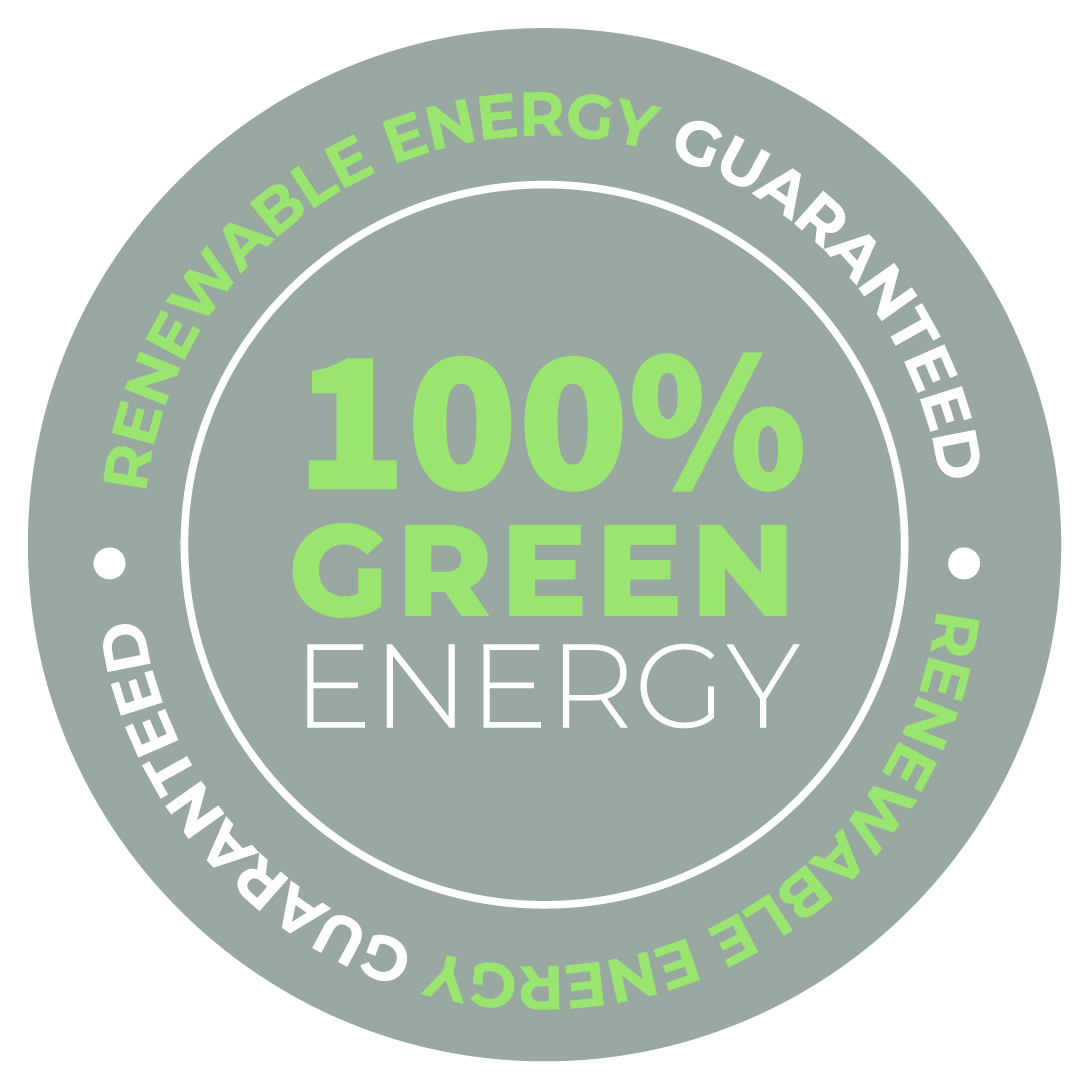 We use green energy in all our processes
At Vilarrasa we are committed to renewable energy sources, and for some time now we have been working on the introduction of photovoltaic energy in our production. The energy is characterized by the direct conversion of sunlight into electricity through solar cells, allowing a much more sustainable production, thus favouring the environment and reducing the emission of greenhouse gases.
Pre-consumer recycled yarns
Recycled cotton/Polyester
Ecru, white and colours
Mixes
90%/10%
80%/20%
70%/30%
50%/50%
White and colours
50%/50%
Recycled cotton/
Recycled polyester
Ecru, white and colours
Mixes
90%/10%
80%/20%
70%/30%
50%/50%
Certificated recycled yarn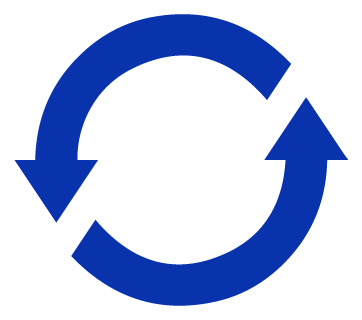 Collaborations with industry partners
At Vilarrasa, we maintain a solid collaboration with leading partners in the sector with the aim of devising circular solutions for the textile industry.
Pre-consumer recycled yarns for different applications
Latest news on pre-consumer recycled yarns
Contact a leading industry partner
By choosing Vilarrasa, you are supporting a company committed to sustainability and constant innovation in the recycled yarn sector. Together, we can contribute to a more sustainable and responsible future for the textile industry.
Fill in the form, call us on +34 972 590 250 or send us a whatsapp. Find out how we can help you achieve your sustainable and productive goals today!